Outtake:
I reckon it's time to check in on one of my bolder predictions. Some 18 months ago, I wrote "In Five Years, Most Africans Will Have Smartphones."
Let's get this out of the way: most of the smart money thinks I'm wrong by at least three years. Worldwide, according to Gartner, smartphone sales exceeded feature phone sales in 2013, for the first time — but Africa remains a different story.
Informa UK's terrific Africa Telecoms Outlook (PDF) projects 334 million African smartphone connections in 2017, maybe 30% of the continent's population. IDC is more pessimistic yet; it figures smartphones are currently 18% of the African mobile phone market, but they expect their number to "merely" double in volume by 2017. CNN concludes: "feature phone penetration will continue to maintain its healthy lead."
Worst of all is this Horace Dediu post at Asymco: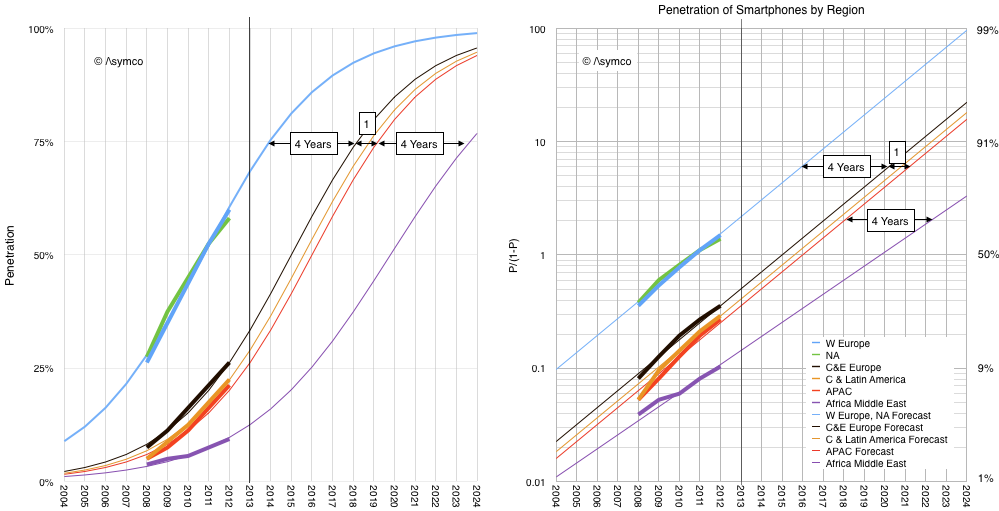 because Horace is brilliant and data-driven and you dispute his analysis at your peril. (Although I do note that he specifically says his graphs assume slower growth rates in Africa, without quite explaining why.)
But wait, there may be worse...