Ars Technica: Don Draper may be an alien, but Mad Men is definitely science fiction
Outtake: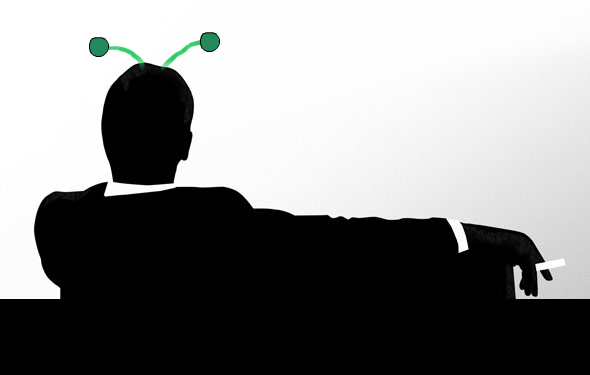 Stay with us, the case for sci-fi is higher quality than this Photoshop job.
Welcome to The Multiverse, a new column where'll you'll find Ars' explorations and meditations on the world of science fiction. The Multiverse covers things we love, the things we hate, and the things we do not yet understand from source materials new and old. Send questions, tips, or just say hi to The Multiverse's writers at themultiverse@arstechnica.com.
PLEASE NOTE: This article contains minor spoilers throughout.
It's an annual spring traditional on par with baseball's opening day and the first burger off the grill. Every year around May, sci-fi fans brace themselves for a cancellation kill-fest that sees the genre's few mainstream TV offerings dwindle further. 2014 featured NBC cutting ties with Revolution and JJ Abrams' and Alfonso Cuarón's Believe. CBS stopped Intelligence. FOX even continued to troll its Firefly fans by canceling the network's latest sci-fi attempt, Almost Human, after a single season. Add to that the inevitable end of some long-running SyFy staples (farewell Warehouse 13), and it's hard to know where to turn for a sci-fi fix in the current TV landscape.
Read 12 remaining paragraphs |
Read More on Ars Technica...


© Copyright 2014 Ars Technica. All rights reserved. If you've enjoyed this content, please visit Ars Technica to show your appreciation.
Information for Bloggers