MacRumors: Amazon Announces 'Fire Phone' With 3D 'Dynamic Perspective' Interface, 'Firefly' Object Recognition Engine
Outtake:
Amazon today unveiled its much-anticipated new smartphone, the Fire Phone, which Amazon calls "refined, beautiful, and robust." The phone has a 4.7-inch LCD HD display along with Gorilla Glass 3 on both sides and "precise" aluminum buttons. It includes a quad-core 2.2Ghz processor, an Adreno 330 Graphics Processor, 2GB of RAM, and dual stereo speakers. There's a 13-megapixel rear-facing camera with an f/2.0 five element lens and built-in optical image stabilization.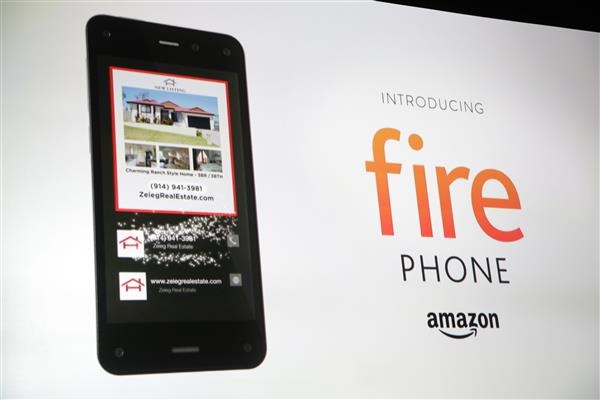 Aiming at Apple, Amazon touted the low-light capabilities of the camera included in the phone and announced free unlimited photo storage through its Amazon Cloud Drive service. Apple recently announced its own iCloud Photo Library, but it offers a limited amount of storage for free. Along with standard cameras, Amazon's Fire Phone utilizes four additional cameras for a 3D interface, called "Dynamic Perspective." 3D images on the phone change as it is tilted and viewed from different angles, thanks to advanced eye and face tracking capabilities. Demonstrated with a mapping app, the 3D UI displayed a 3D version of the Empire State Building that could be viewed from all angles, with a tilt of...