MacRumors: Analysts Eyeing Record Highs for Apple's Stock Price, Rushing to Raise Price Targets
Outtake:
Analysts were sour on Apple last year, believing the company's stock would not climb over the $700 mark it crossed briefly in September 2012. Now with a 7-for-1 stock split and a continuing stock repurchase plan, this negative sentiment is changing with analysts revising their price targets for the again-hot stock, reports Fortune.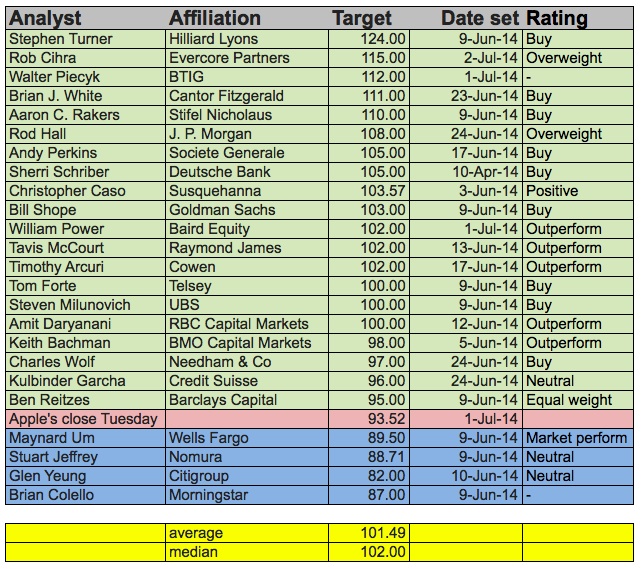 Table compiled by Fortune's Philip Elmer-DeWitt. In recent weeks, analysts have adjusted their price targets by as much as 30 percent, with prices now ranging from a low of $87 from Morningstar's Brian Collelo up to a high of $124 from Stephen Turner of Hilliard Lyons. With the recent upgrades, the analysts' average price targets are now above Apple's all-time high once the stock split is accounted for. As noted by BTIG's Walter Piecyk, some of this optimism stems from new U.S. carrier plans that will expand the number of customers eligible to upgrade to Apple's next generation iPhone and new leasing options that offer upgrades with a minimal upfront cost.
"Historically we estimate that ~20% of AT&T's subscriber base was eligible for an upgrade during an iPhone launch quarter. That eligibility dropped to...