MacRumors: 4.7-Inch iPhone 6 Built From Parts Supports Theory of 1334 x 750 Display
Outtake:
Yesterday, we shared a video and some photos from Feld & Volk [Instagram page] apparently showing a 4.7-inch iPhone 6 built from parts actually booting to the "Connect to iTunes" recovery mode screen. A Tweet today from developer Steven Troughton-Smith points out that the graphics shown on the display during this booting process "*seem* to confirm" John Gruber's arguments in favor of the device being equipped with a 1334 x 750 display at the same 326 pixels per inch density of previous Retina displays. More specifically, the evidence points toward an approximately 667 x 375 point display, which would presumably arrive in the form of a 2x Retina display at 1334 x 750 as Gruber suggests. Sparked by Troughton-Smith's observation, we have independently examined photos of the booting device provided to us by Feld & Volk and come to the same conclusion.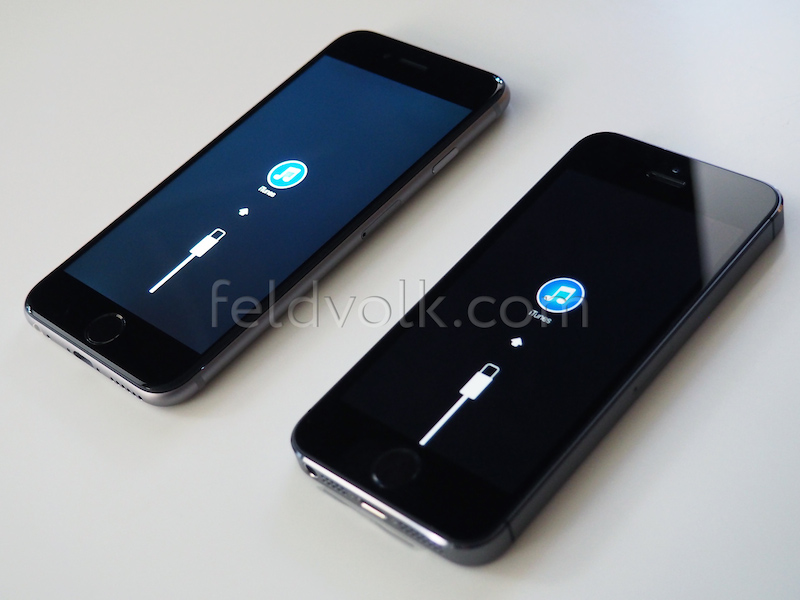 iPhone 6 (left) and iPhone 5s (right) shown booting to recovery mode. Letterboxing on iPhone 6 visible below Lightning cable. The method relies on the fact that the "Connect to iTunes" image does not completely fill the display on the iPhone...