Ars Technica: Review: A $229 unlocked phone that marries the Galaxy S5 to the Moto G
Outtake: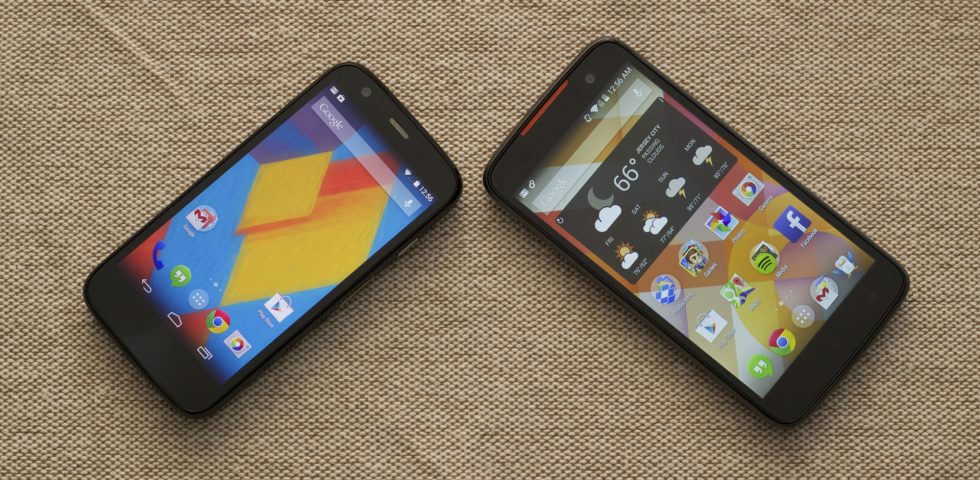 Kogan's Agora 4G (right) is like a larger version of the Moto G (left).
Andrew Cunningham
Specs at a glance: BenQ/Kogan Agora 4G
Screen
1280×720 5.0-inch IPS (294 PPI)
OS
Android 4.4.2
CPU
1.2GHz Qualcomm Snapdragon 400 (quad-core Cortex A7)
RAM
1GB
GPU
Qualcomm Adreno 305
Storage
8GB NAND flash expandable via microSD
Networking
802.11b/g/n, Bluetooth 4.0, 2G 850 / 900 / 1800 / 1900MHz, 3G 850 / 900 / 2100MHz, 4G 900 / 1800 / 700MHz
Ports
Micro-USB, headphones
Camera
8MP rear camera, 2MP front camera
Size
5.63" × 2.87" × 0.35" (143 x 73 x 9.0 mm)
Weight
4.76 oz. (135 g)
Battery
2520mAh
Starting price
$229 off-contract
You don't have to pay $600 for an unlocked smartphone anymore. That much was true before the $179 Moto G won our hearts late last year, but that phone was one of the first examples of a new class of smartphone, the kind of device that could give you a budget phone that didn't feel like a budget phone.
The problem is that there still isn't a whole lot of choice in this segment yet. Heavy hitters like Samsung, HTC, and LG continue to price their flagship devices as they always have, and going for cut-down "mini" versions of the same phones generally only saves you...
Read More on Ars Technica...

© Copyright 2014 Ars Technica. All rights reserved. If you've enjoyed this content, please visit Ars Technica to show your appreciation.
Information for Bloggers